Post Pandemic Update - April 2022
As Covid rules and restrictions have been lifted in Scotland, now is a good time to review the current Scottish Government guidance to the changes, as below, which were made at the outset of the pandemic in March 2020.
External Advisers no longer attended  panels on site but accessed the interviews remotely

Due to the above change the lead-time for a Health Board to request a panel reduced from 8 weeks to 6 weeks

. 
The Scottish Government are now recommending a hybrid option whereby the Health Board can ask for an onsite attendance of an External Adviser (EA) if they feel this enhances their chances of recruitment. If they choose to do this, then the lead-time would revert to 8 weeks.
However, the lead-time would remain at 6 weeks, should the Health Board decide to ask for an EA linking in remotely to the interview panel.
It maybe that  priorities and workloads  have changed in the last 2 years for some EAs, who feel travelling impacts too much on their workloads and may only accept a panel invitation if they can connect remotely.
Therefore, if the EA office is asked by a Health Board to allocate an EA to attend a panel in person, but is unsuccessful, the Health Board will be offered an EA who has offered to link in via remote access.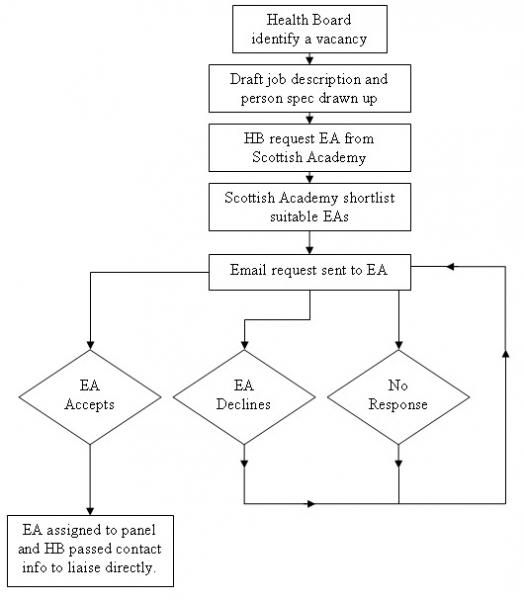 JTHM020 - Guidance for External Advisers:
JTHM020 – Guidance for External Advisors
External Advisers Documents: